In Aviation training, one of the first things a Flight Instructor is required to learn are the Principles of Learning. One of the most enduring of those principles is The Law of Primacy, which states: "Primacy, the state of being first, often creates a strong, almost unshakable, impression." For the instructor, this means that what is being taught must be right the first time.
Take Flight Aviation goes to great lengths to ensure that when you walk through our doors, you learn what you came to us for the right way….the first time. From our custom built electronic syllabus, to our highly trained instructors and state of the art equipment and ideal training location; Take Flight Aviation ensures nothing is left to chance.
We all see the news lately and can see how poorly trained pilots can move up to the airline cockpits. Couple that with staffing shortages and the associated rapid career progression, and it's easy to see how a pilot who really didn't learn the basics properly in the first place can get into a lot of trouble further on in their career.

Take Flight Aviation, the recipient of many AOPA Flight Training Experience Awards, including Best in the Nation, Best in the Northeast and their illustrious President's Award for Innovation and Industry Contribution among others, helps people like you become outstanding pilots. Whether you plan to fly professionally or take the world's most precious cargo (you and your family) on a flight – Take Flight Aviation will help you get it right the first time in a field where second chances sometimes aren't an option.
Private, Instrument, Commercial, Multi, Part 61 and Accelerated Part 141 Success By Design at Take Flight Aviation.
If you would like to book an appointment for an in person or online meeting please click here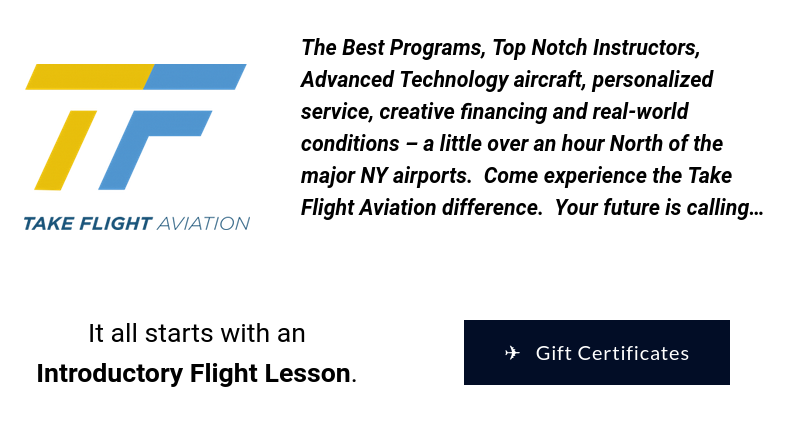 If you're as serious about flying as we are – give us a call. Take Flight Aviation can make it happen for you!