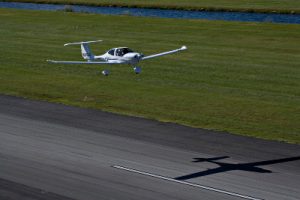 The Commercial Pilot Certificate is sought after by those who want to fly for pay as well as those who are looking to fine tune their flying skills for personal travel. The route to get to the Commercial Pilot Certificate includes first earning your Private Pilot's Certificate and for most, the Instrument Rating. You need 190 flight hours under FAA Part 141 regulations or 250 flight hours among other FAA specified requirements in order to be eligible for the Commercial Certificate under Part 61 regulations.
Traditionally a career minded pilot will train for the Commercial Certificate in a single engine aircraft before earning their Flight Instructor Rating, which is many cases, is the ideal first job for a working pilot. The training consists of advanced maximum performance flight maneuvers that will teach you mastery of aircraft control. You will also fine tune your navigation and precision landing skills through a series of cross county flights and landing drills. Take Flight Aviation's Part 141 Commercial Pilot Training Program additionally offers a module on Multi Engine flying – allowing you to complete most of your Multi Engine training as part of your initial Commercial training program…which saves you money and time!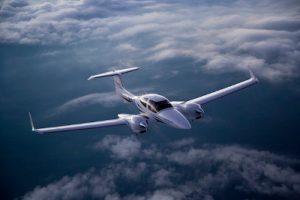 Under the FAA's new rules, we can perform all of your training in our Modern Diamond DA40 Technologically Advanced Aircraft (TAA). Take Flight Aviation's ultra-efficient Commercial Pilot Training Program provides you with the training you need to be safe, competent and comfortable as a working pilot and is the perfect way to get ready to earn your CFI (Certified Flight Instructor) rating.
We also offer time proven programs to help you earn your Commercial Multi Engine Rating – both as an Initial (first Commercial Certificate you hold) and as an add on (a Commercial rating you add to an existing Single Commercial Certificate).
Take Flight Aviation's Commercial Training Programs are ready to help you earn your Commercial Certificate!