Welcome to Take Flight Aviation's Maintenance Services!
Experience Excellence Beyond Expectations:
At Take Flight Aviation, we go above and beyond to ensure that every maintenance experience surpasses the bare minimum. Your aircraft is not just a machine; it's a valuable investment, and we treat it as such. With a commitment to excellence, we guarantee accurate and reasonable estimates, on-time project completion, and a returned aircraft that will not only be cleaned but will look even better than when it arrived.

Transparency and Trust:
We believe in open and honest communication with our valued customers. Our team of experienced A&P mechanics and dedicated support staff will provide you with a clear understanding of the required work, explaining the process with respect and professionalism. You can trust us to always have your best interests at heart.
Elevate Your Aircraft's Interior:
Looking to enhance your aircraft's interior? Our interior upgrade services will not only add to your comfort but also elevate the aesthetics of your aircraft. We understand that the details matter, and we ensure a perfect blend of functionality and style.
Aircraft Detailing for a Pristine Finish:
Your aircraft deserves the utmost care and attention, and our meticulous aircraft detailing service ensures that it shines with pride. Leave it to us to restore and preserve your aircraft's exterior to showroom-worthy condition.
Diverse Expertise in Aircraft Service:
As a Factory Authorized Service Center for Diamond Aircraft, we possess specialized knowledge in maintaining and repairing these exceptional aircraft. Additionally, we service a range of other renowned brands, including Cirrus Aircraft, Beechcraft, Piper, Cessna, Mooney, and a variety of Light Sport Aircraft. Furthermore, we have the expertise to handle most Turboprop & Light Business Jets. Our skilled team, overseen by our industry expert IA-certificated maintenance chief, ensures the highest quality of service for all types of aircraft.
Visit Us Today: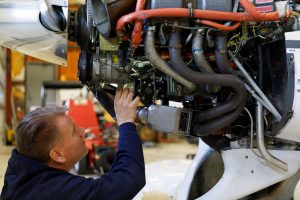 Experience the Take Flight Aviation difference. Give us a call or, even better, visit our facility to witness firsthand why we should be your ultimate destination for aircraft repairs and maintenance. Let us take care of your aircraft while you embark on worry-free flying adventures.
Trust, Quality, and Excellence – That's Take Flight Aviation Maintenance Services.
Contact Us for Seamless Communication:
At Take Flight Aviation, we are committed to providing you with convenient and efficient ways to get in touch with us. For any questions related to scheduling, estimates, or general inquiries, please don't hesitate to reach out via email:
Prefer speaking to a friendly voice? Feel free to call us during our business hours at:
Phone: 845-457-4188 Monday-Friday 8-6pm. Sat & Sun 9-5pm.
24/7 Support via Chat Bot:
We understand that your needs might extend beyond regular business hours. That's why we offer the option to chat with us anytime, whether it's after hours or during our operational hours. Simply click on the chat bot located on our website, and one of our knowledgeable team members will be ready to assist you.