We'd like to thank everyone who attended our first Republic Day at Take Flight Aviation. We reached out to Republic Airways because they offer a great selection of local crew bases, modern Embraer 170/175 Jets and a work culture that we feel suits our graduates well.
We realize that it can be difficult to determine which airline to go to as a young pilot and we like the work rules that Republic Pilots enjoy – no "Hot Reserve" where you sit in an airport for 12 hours a day just in case a pilot calls out sick and no "Junior Manning" where you are required to pick up the phone when scheduling calls on your days off. Add to the mix that Republic serves multiple mainline airlines and has a route structure that runs coast to coast and into the Caribbean; their pilots get a good lifestyle and some wonderful flying experience. While we are fans of the experience Republic Airways offers its pilots, it is one of many choices you have upon graduating from our program.

Take Flight Aviation's Accelerated Professional Pilot Training program alumni have a 100% success rate in landing the jobs they want. Our graduates are not just manipulators of controls but are instead developed into master risk mitigators and fine professional pilots. With a state-of-the-art fleet of Diamond aircraft, proprietary training programs, Diamond factory authorized maintenance, financing, and the team to bring it all to life, you truly can launch your career as a professional pilot at Take Flight Aviation.
Give us a call or visit takeflightoc.com to learn more.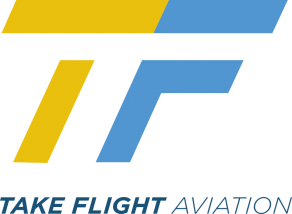 With Private Pilot, Instrument, Commercial, Multi Engine and Instructor Ratings all available, Take Flight Aviation is your home for aviation success!
It all starts with an Introductory Flight Lesson.

If you're as serious about flying as we are – give us a call. Take Flight Aviation can make it happen for you!