DA40NG For Sale
This one owner Diamond DA40NG has seen only use as a personal aircraft and has been hangared since new. It currently has 650 hours on the engine, and 10 hours since major overhaul on the propeller and has no damage history. Available immediately with a fresh annual inspection.
With its cutting-edge Garmin G1000 NXI Avionics suite that can communicate directly with your iPad, and its Mercedes/Austro Diesel engine that Flying Magazine describes as "spectacular," this Diamond DA40NG boasts a host of technological, safety, performance, and environmentally friendly features that are simply not found in other aircraft. This aircraft will save you both wait time and money over purchasing a new one.
The DA40NG offers full digital control of the engine – making flying a one lever operation. The propeller pitch and mixture are all controlled electronically….much like the mixture is in your car. With years of Austro engine experience already under our belts from operating our fleet of DA40NG's and DA42NG's, we know first-hand how incredibly reliable the engine package is.

There are no magnetos to check, plugs to foul or low lead fuel to pollute the environment. Even better is that the Austro diesel sips 5.1 gallons of Jet-A fuel per hour at a 126 knot economy cruise setting – almost half of what is consumed by a comparable 4 cylinder avgas powered engine. That economy allows the DA40NG to have a range of over seven hours on only 39 usable gallons of fuel. Pushing the power level up further will yield a 154 knot cruise while still burning considerably less than the NG's gas powered cousins. The useful load is 904 lbs.
The Gamin G1000 NXI's Flight Stream 510 supports two-way flight plan transfer, the sharing of traffic, weather, GPS information, back-up attitude information and more, between the G1000 NXi and compatible mobile devices running Garmin Pilot or ForeFlight mobile. Flight Planning has never been so easy!
You can let this aircraft pay for itself with a leaseback opportunity with Take Flight Aviation – New York and the Northeast's premier General Aviation Services and Flight Training Center!
Call for more information.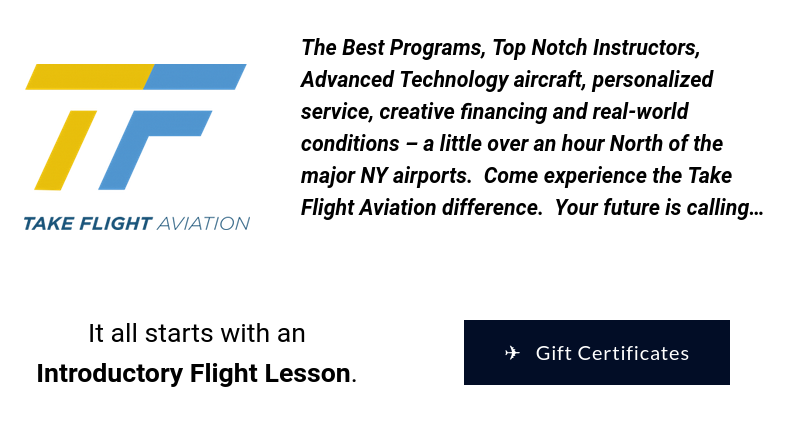 If you're as serious about flying as we are – give us a call. Take Flight Aviation can make it happen for you!