Magnificent 2022 Diamond DA42 Version VI for Sale-Available for Immediate Delivery
There's a year-long waiting list for a new Diamond DA42-VI; here's your chance to get a nearly new one with 51 hours since new right now!
This nearly new Diamond DA42-VI comes with a warranty until December 2024. N224PG is equipped with air-conditioning, TKS known icing, oxygen and Garmin's latest G1000 NXI integrated cockpit along with Austro AE300 168-hp turbo diesel JET A fueled engines with full FADEC engine controls.
Cruising speeds are 175 KTAS on a fuel burn of 14 gph total between both engines, giving you a range of over 1000 miles. Given the DA42-VI's comfort, technology, efficiency and utility with its 1200 plus lbs of useful load, there's no question why it's the best selling twin on the market. We operate a fleet of these aircraft for multi engine training and rentals, so we can comfortably say that they are the easiest to fly, lowest maintenance and most reliable twins on the market today. If you want to experience all the safety of having a second engine in an aircraft that truly flies well and easily with one engine out (we practice it all the time in our Diamond twin fleet), then this is your aircraft.

Take Flight Aviation can take you from inquiry through years of enjoyment with type training, delivery and Diamond Factory Authorized Service. Take Flight Aviation – New York and the Northeast's premier General Aviation Services and Flight Training Center!
Call for more information.
If you would like to book an appointment for an in person (or online) meeting to discuss training with us, please click here.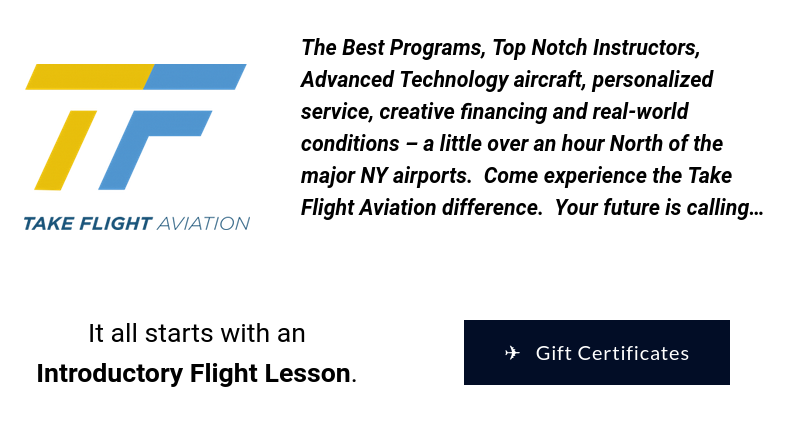 If you're as serious about flying as we are – give us a call. Take Flight Aviation can make it happen for you!