Clients of Take Flight Aviation have a TREMENDOUS record of earning the licenses and ratings they come to us for – far greater than the national average. Last year alone Take Flight clients earned over 120 licenses and ratings with a 90% first-time pass rate. Wonder why that is? We refer to it as Success by Design. Sure, we have a magnificent fleet of advanced Diamond aircraft – but there's much more to it.
Nearly a decade ago we came up with the idea that helping people become pilots required an approach that we couldn't simply purchase from a training program supplier. We needed to build it ourselves, which required a team of people we didn't have at the time. We hired pilots who also had advanced degrees in adult learning, engineering, and business and who had worked in large corporate, university, and federal regulatory settings. Together we set out to design and build the best training programs and procedures we could.
We tested and refined our programs over several years, eventually obtaining FAA approval for Part 141 professional pilot training. Since then, we have developed a digital version of our programs – allowing each syllabus to be available online so we (and you) can track your progress efficiently. This allows you to always be sure what you need to be studying, what to expect in your next lesson, and what level of performance is expected of you. Your training is always clearly laid out and updated as you move through it.

Great customer service can't happen without superior scheduling capabilities, and that's something that trips up most flight schools. At Take Flight Aviation we have a dedicated scheduling staff that builds your entire schedule out from day one. You know exactly what days and times you are scheduled to train from day one until the end of your training. This allows us to arrange practical exam dates with FAA Designated Examiners in the most efficient manner, keeping you from having to wait weeks to finally earn your certificate or rating.
One thing a pilot learns early is that a successful journey doesn't occur without proper planning. At Take Flight Aviation, your aviation journey will be a success by design. We leave nothing to chance – and neither will you. Talk to us about training for:
Private Certificate
Instrument Rating
Commercial Certificate
Multi-Engine Rating
Accelerated Full Professional Program
Finish-Up Programs
Multiple financing options available
Call Take Flight Aviation to learn more and get started or… If you would like to book an appointment for an in-person (or online) meeting to discuss training with us, please click here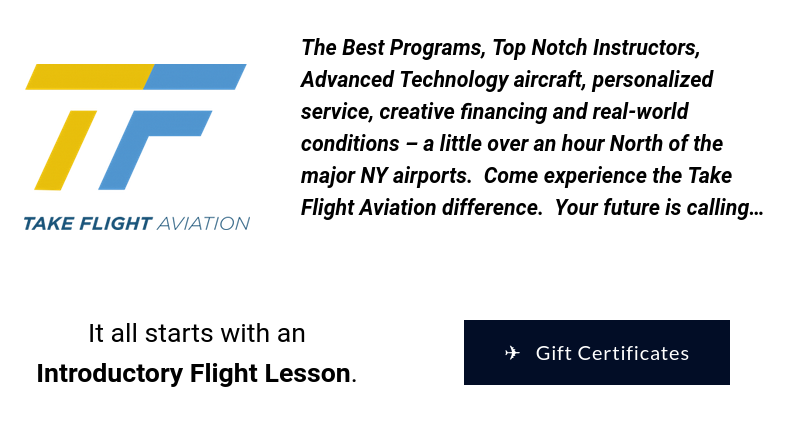 If you're as serious about flying as we are – give us a call.
Take Flight Aviation can make it happen for you!