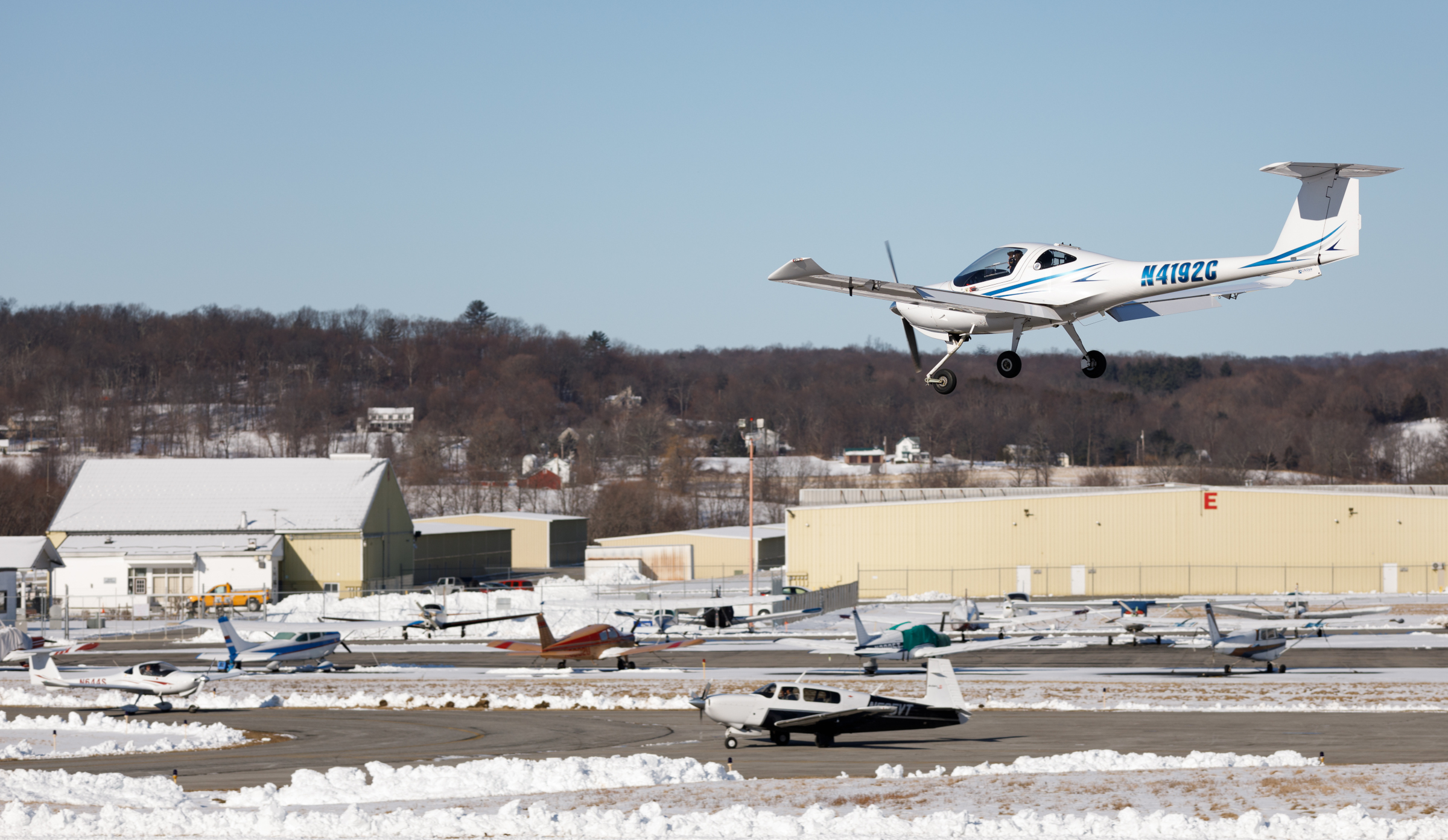 As Take Flight Aviation has grown, we've had offers to open new locations at other airports in the region. Each presented opportunities and challenges, but after careful consideration we opted to keep all of our operations at Orange County (KMGJ) Airport….for the very same reasons you'll want to come to us to train.
Having a leadership team that's trained and worked at airports in Westchester and Farmingdale, NY, we knew exactly what those airports offered. And with clients coming to us from some of the other Central & Northern New Jersey airports, we knew the positives and negatives of those fields as well. In our view, Orange County Airport offers the ideal combination of features for your pilot training:
1) Simple, uncongested Class G Airspace, which allows our clients to fly standard patterns at our home field, time and again. If your instructor wants you to fly a short-in approach or a longer final leg to landing, it's their call, not dictated by a control tower and high-density traffic operations.
2) No delays on the ground means no wasted money. Our team has spent many Friday afternoons sitting at Westchester Airport with the engine running for 45 minutes, waiting to depart. Farmingdale isn't much better, with students from the field's half-dozen flight schools working in the pattern at any given time.
3) We're 5 minutes from takeoff to entry to our practice area, one used only by our school. Many other airports in the region require a 20 minute flight after departure to get to a practice area or another airport for pattern work. And many of those other schools share practice areas, making them very congested with training traffic. Training at KMGJ means efficiency and safety.
4) With intersecting runways (4-22 and 8-26), at KMGJ we always have a runway right into the wind.
5) KMGJ is a General Aviation field, which means there's no airline traffic and few large business jets to generate turbulence during your initial training. And when you need to learn to fly in the vicinity of heavy aircraft, you'll find them only 5 minutes away at Stewart International Airport (KSWF).
6) We are just outside the busy New York Class Bravo airspace, not underneath it or in a cut-out airspace. We can train over open fields and beautiful rural areas where we bother no one – and we can still get to the complex and busy NY airspace in minutes.
7) Orange County makes quality hangar space available to us. Take Flight has the hangars to properly maintain its fleet as well as the private aircraft of its clientele. Being a destination for light aircraft maintenance means we hire the best airframe & powerplant mechanics and ensure they are up to date on the latest maintenance issues and techniques. Experience counts, and Take Flight Aviation has the facilities to handle whatever comes our way.
8) Orange County Airport is mere minutes from the New York State Throughway and I-84, making it extremely easy to drive to. We also have airline service at nearby Stewart International Airport as well as many short- and long-term housing options near us, making it easy for clients coming in from a distance train with us.
All these reasons mean training at Orange County will save you money *and* time. Consider this: our Private Pilot clients wrap up training, on average, in 44-48 hours. The national average is 75 hours. So you're looking at 25-30 hours of savings. Surely that's worth an extra 45 minutes in your car.
Take Flight Aviation offers the best flight training & equipment at the best training airport in the New York metropolitan region.
Call us to learn more about how to put Take Flight Aviation to work for you!