We'll be the first to admit it; we've been hearing about an impending pilot shortage for years.  One way or the other, the airlines have always been able to make it through.  This time, thanks to an onslaught of early retirements during the height of the pandemic coupled with the planned retirement of thousands of pilots as they reach age 65, the shortage is real…very real.  CNBC calls the shortage "Severe" is this recent article: 
Click Here 
If you are interested in becoming a professional pilot, there has never been a better time to do so – and there is no better place to launch your career than at Take Flight Aviation.  With one of the nation's largest fleets of privately owned modern Diamond Aircraft coupled with our one of a kind accelerated Part 141 training program, we can take you from ZERO TIME TO COMMERCIAL PILOT IN 6 MONTHS.  Top that training off with our world class CFI course and you'll be ready to work as a well-paid instructor – and rapidly build you experience up in order to meet the 1500 hours required by the airlines.  In fact, Take Flight Aviation hires the majority of our graduates to work with us.  Every one of those alumni who work with us has found the job they were looking for…that's a 100% placement success rate!



Take Flight Aviation offers year-round real-world training, in the weather that you'll spend the rest of your career flying in. We don't slow down in the winter, as the Southern New York weather offers plenty of great flying days to get your training completed on time, and with the greatest exposure to real world condition. Our graduates don't just get the jobs, they accel in training and throughout their careers.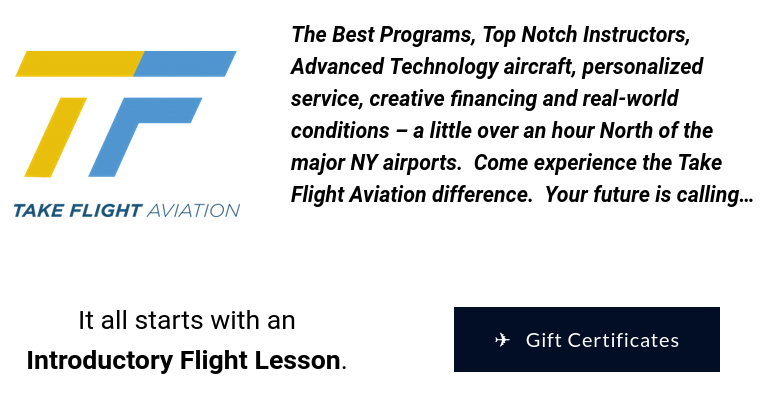 If you're as serious about flying as we are – give us a call. Take Flight Aviation can make it happen for you!