That is the question we ask incoming clients. The reason is simple; we have a lot of training options tailored to the needs of different clients and we want to help find the right training option for you!
For those coming to us to earn a Private Pilot license with the intent of simply flying locally on a budget, our Part 61 Private Pilot Training Program and cost-effective Diamond DA20 fleet of aircraft is the logical choice. The program allows for maximum scheduling flexibility and the DA20 is an efficient, simple and wonderful flying two seat aircraft.
For those looking to train in a more technically advanced, faster, four seat aircraft; our Diamond DA40 and DA40NG fleet can also be used with our Part 61 flexible Private Pilot Training Program. It also is a comfortable people mover and our primary Instrument trainer later. For those looking to train on a more full-time basis; both the DA20 and DA40/NG fleet can also be used with our accelerated Part 141 training program as well.
If your goal is to travel longer distances and want to train in a fast, technologically advanced and super luxurious aircraft that you will likely want to own or rent later, our Cirrus SR20 G6 fleet is for you – offered through our very own factory approved Cirrus Training Center. These SR20 aircraft are wonderful flyers and prepare you to check out later in our High-Performance Cirrus SR22 fleet – aircraft capable of long flights at high speeds in a broad variety of weather conditions.
For those looking to make a career of being a Pilot, we offer our Professional Pilot Program – an accelerated Part 141 program that can take you from zero experience to Commercial Pilot in 6-8 months. This program uses our entire Diamond Fleet and fully immerses you in the training environment on a full-time basis. With financing available through Meritize Financial, and a perfect 100% success rate of finding the jobs the seek by our alumni, our Professional Pilot Program is the perfect way to launch a rewarding career as a pilot.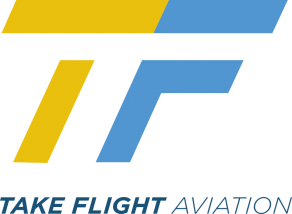 With Private Pilot, Instrument, Commercial, Multi Engine and Instructor Ratings all available, Take Flight Aviation is your home for aviation success!
It all starts with an Introductory Flight Lesson.

If you're as serious about flying as we are – give us a call. Take Flight Aviation can make it happen for you!