Take Flight Aviation offers unparalleled Cirrus Private Pilot Training. Cirrus Aircraft are known for their outstanding performance as well as a wonderful customer service experience – at Take Flight Aviation, we build upon that foundation as a Cirrus Certified Training Center. Nowhere else can you train in a Cirrus at a company that has won numerous AOPA Flight Training Experience Awards including Best in the Country and President's Choice.
The Advantages to training in the SR20 Generation 6 are vast. The aircraft offer all the docile and predictable characteristics that one would expect in a training aircraft coupled with state-of-the-art safety systems unique to the Cirrus product line.
While all Cirrus Aircraft are known for the Cirrus Airframe Parachute System, these aircraft also feature a wide array of protective layers made up of innovative systems that transition from passive, to redundant and finally to active. These systems include the Cirrus Perspective + by Garmin avionics system, which monitors all aircraft systems, as well as present a wide array of weather, terrain, traffic and air data information in a colorful and intuitive system.
The advantages of the SR20 G6 don't end when you earn your Pilot's Certification – the cavernous and luxuriously appointed interior coupled with its range and load carrying capacity make traveling with the family a breeze. For those ready to move on to an even faster Cirrus with more range, capacity and all-weather capability; the SR22 G6 fleet awaits you in the Take Flight Coterie.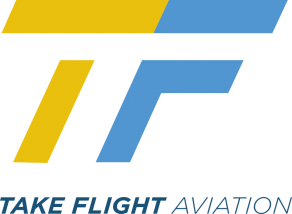 With the entire fleet maintained to the highest standards by Take Flight Aviation's in house maintenance staff, you can rest assured that the aircraft you fly are ready and able.
Cirrus Transition Training is also available for those ready to expand their horizons and enjoy the Cirrus experience.
If you're as serious about flying as we are – give us a call. Take Flight Aviation can make it happen for you!